Year End Tax Planning 2021/22
As a new tax year approaches, it is important to ensure you are in the best financial position to help protect and grow your future wealth.
Our Bitesize Tax Planning provides you with details of the key allowances and reliefs available to you. The tax planning tips are available in easy to consider sections.
This article looks at Allowances including; Personal Allowance, Personal Savings Allowance and Dividend Allowance.
The standard Personal Allowance is £12,570, which is the amount of income you do not have to pay tax on.
Your Personal Allowance may be bigger if you claim Marriage Allowance. The income tax bands and the tax rates you pay in each band if you have a standard Personal Allowance of £12,570 are: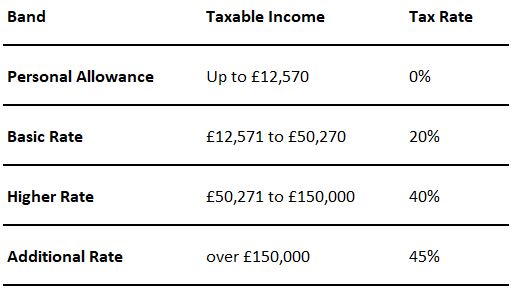 You do not get a Personal Allowance if your taxable income is £125,140 or more. Whereas, if your taxable income is over £100,000 but below £125,140 you will receive a reduced Personal Allowance (reduced by £1 for every £2 of income over £100,000).
Moreover, Marriage Allowance lets you transfer £1,260 of your Personal Allowance to your husband, wife or civil partner. Consequently reducing their tax by up to £252 in the tax year (6 April to 5 April the next year). When you transfer some of your Personal Allowance you might have to pay more tax yourself but you could still pay less as a couple. Marriage allowance can be claimed for up to the four previous tax years as well if eligible.
You can benefit from Marriage Allowance if all the following apply:
You're married or in a civil partnership
You do not pay Income Tax or your income is below your Personal Allowance (usually £12,570)
Your partner pays Income Tax at the basic rate, which usually means their income is between £12,571 and £50,270 before they receive Marriage Allowance
If you're living together but you're not married or in a civil partnership, you cannot claim Marriage Allowance.
For more information visit: gov.uk or speak to your financial adviser.
Personal Savings Allowance
The Personal Savings Allowance (PSA) was introduced on 6 April 2016 and is a tax-free allowance. It lets you earn interest on your savings without paying tax on that interest. The allowance you receive depends on which Income Tax band you're in. As a result the majority of savers in the UK no longer have to pay any tax on their savings income.
The allowance you get depends on what rate of income tax you pay:
Basic-rate (20%) taxpayers: can earn £1,000 in savings interest per year with no tax
Higher-rate (40%) taxpayers: can earn £500 in savings interest per year with no tax
Additional-rate (45%) taxpayers: £0 – they do not get an allowance
Your allowance applies to interest from:
Bank and building society accounts
Savings and credit union accounts
Unit trusts, investment trusts and open-ended investment companies
Peer-to-peer lending
Trust funds
Payment protection insurance (PPI)
Government or company bonds
Life annuity payments
Some life insurance contracts
Additionally, savings in tax-free accounts like Individual Savings Accounts (ISAs) and some National Savings and Investments accounts do not count towards your allowance.
For more information visit: gov.uk or speak to your financial adviser.
Individuals are entitled to a tax-free dividend allowance of £2,000 per annum. Dividends above this level are taxed at 7.5% for a basic rate taxpayer, 32.5%. For a higher rate taxpayer and 38.1% for an additional rate taxpayer (with each rate increasing by 1.25 percentage points from 6 April).
Furthermore, it is worth considering whether any dividend yielding assets held by the family can be transferred into the hands of the lowest tax rate-paying member. This could result in the family suffering the least amount of tax on income.
For more information visit: gov.uk or speak to your adviser.
See the other topics in our Bitesize Tax Planning series:
Personal circumstances differ and not all of this information is applicable to every client and/or their business, this information is general in nature and should not be relied upon without seeking specific professional financial advice.
The financial conduct authority does not regulate tax advice, estate planning or will writing.
The content in this article is for your general information and use only and is not intended to address your particular requirements. Articles should not be relied upon in their entirety and shall not be deemed to be, or constitute, advice. Although endeavours have been made to provide accurate and timely information, there can be no guarantee that such information is accurate as of the date it is received or that it will continue to be accurate in the future. No individual or company should act upon such information without receiving appropriate professional advice after a thorough examination of their particular situation. We cannot accept responsibility for any loss as a result of acts or omissions taken in respect of any articles.
Thresholds, percentage rates and tax legislation may change in subsequent finance acts. Levels and bases of, and reliefs from, taxation are subject to change and their value depends on the individual circumstances of the investor. The value of your investments can go down as well as up and you may get back less than you invested. Past performance is not a reliable indicator of future results.
Pareto Financial Planning Ltd is authorised and regulated by the Financial Conduct Authority.